Okie dokie, people. The
7×7 remix
is coming up and while some of you are excited, others of you might be freaking out and anxious about what pieces to choose. Welp, I'm gonna throw you a bone and show you my 7 pieces to help you out.
(Side note: Whenever link ups happen I always wish the host would show their post first so that I could get a better idea of what they're doing. Something in me wants to "do it right." Even if the point of it is for you to get creative and the rules are loose, I still want to "do it right" and I always have a little anxiety about it. Or sometimes I just need a little help to get me started. Anyway, this little teaser below is precisely for those of you who are in the same boat as me with that…)
I chose three different bottoms, since I think variation in bottoms is helpful for giving you more outfits. But really, for just 7 outfits you could do two bottoms and four tops and potentially get 8 outfit bases. (If you needed more than 8 outfits, you'd definitely have to go with three bottoms and three tops!) Also, my pieces are in a similar color scheme.
As far as prints and patterns go, you could do all solid colors and accessorize your heart out. Or you could do all solid bottoms and all patterned tops, or vice versa. Or pattern mix like crazy!
Hopefully that helps. Good luck, friends!
---
Linking Up
If you're going to participate it would be wonderful if you would link back to Putting Me Together in your post. It's a fun little way to spread the word, and it's much appreciated! If you can't do it through GCOGH, no worries. 🙂
Two ways you can do this…
#1 – With plain text. Something like "Linking up for the 7×7 Remix at Putting Me Together!" (linking to www.puttingmetogether.com)
#2 – Using the image below a la Ma Nouvelle Mode (the mastermind behind the 7×7) and linking back to Putting Me Together. (Natalia graciously gave the OK for this since Putting Me Together is a link up host site too. )
How to use the image: See that little box at the bottom with HTML in it? Highlight everything in that box and just copy and paste that code to the HTML of your post.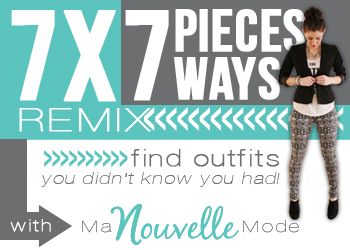 P.S. I'm out of town at that pseudo-camping island place again so I won't be around on Monday or Tuesday. See you Wednesday for the linkup!