Huge thanks to Nordstrom and ShopStyle for sponsoring this post
It's that time again for a cozy gift ideas roundup!  Gotta love all things cozy this time of year, but even more in 2020 than ever!  Are you with me? 😁 Today I'm partnering with Nordstrom and ShopStyle to share a few cozy finds.  And, at the end of this post I've rounded up a bunch more cozy gift ideas for loved ones!
You guys know I absolutely love comfy clothes, and Nordstrom is the number one place I trust for pieces that feel ahhhhmazing.  Plus, I just love shopping there because it's so convenient!  They offer free shipping and free return shipping on all orders, so you can order and try things risk free.  You can also order online and use their curbside pickup service where you just get to DRIVE UP and have your order handed to you while you're in your car.  It's awesome!  Also, if you join The Nordy Club, you earn points on all your purchases, in addition to other great benefits like credit for alterations.  Check it out HERE.
SIZING: I'm 5'6″ and usually S/M or 6 in clothes and 8.5 to 9 in shoes.
We'll start with this cozy jacket!  I shared about it in the summer during the Nordstrom Anniversary Sale, and now that temps are finally cooling down, we've gotta revisit it!  It has a fuzzy lining but is very lightweight.  It's not heavy duty for harsh winters, but it's great for fall weather or milder winter temps.
I've been LOVING this jacket because it's got a casual, sporty vibe that is SO good with jeans and sneakers.  A lot of my warmer coats or jackets feel too nice to be paired with sneakers, but this one is perfect!  So perfect that I got it in two colors. 😁
Above, I paired it with a sweater, but it works just as well–or even better–with t-shirts and sweatshirts.  Like I said, it's great for casual outfits!
What I love about this olive colored one is that it takes the place of utility jackets when the weather gets colder.  I recently shared this same outfit, just with a utility vest and leopard print sneakers.  Here, I simply swapped the utility vest for this olive jacket which works better for cooler temps.  I love being able to easily throw this on instead as a warmer option with the same look!
I've told you before about the tan version of these wedge sneaker booties, but this is the first time I've shown them on.  They are pretty comfy with a rubber sole and soft upper.  Plus, they're WATER RESISTANT, which is soooo awesome!  I used to have to change my outfits and footwear to accommodate rainy days, but with water resistant sneakers, I don't have to worry about that at all.  It makes getting dressed way easier!  These are available in tan and black HERE and leopard print HERE.
Shop the Outfit:
Sweater: c/o Nordstrom (exact–wearing size M, similar)
Jacket: Nordstrom (exact–wearing size S)
Jeans: Nordstrom (exact–wearing size 4)
Shoes: Nordstrom (exact in tan and black–wearing size 9, exact in leopard print)
Tote: Nordstrom (exact)
Here's the black version of the jacket along with the leopard print sneakers.  I love the black version of this, especially as I think about how my color palette shifts more towards black and deeper and more saturated colors in the winter.  Black is great for that!
As for the shoes, they are the same water resistant sneakers as the tan ones above, but in leopard print.  And they're ON SALE for 40% off!  I recently showed 3 ways to wear them, so check that out HERE if you're interested.
Shop the Outfit:
Sweater: c/o Nordstrom (exact in other colors–wearing size M, similar, similar)
Jacket: Nordstrom (exact–wearing size S)
Jeans: Nordstrom (exact–wearing size 4)
Shoes: Nordstrom (exact –wearing size 9, exact in tan and black)
Tote: Nordstrom (exact)

A fleece pullover is another great piece for staying warm.  While this North Face fleece isn't super soft or fuzzy, it's great quality and keeps you toasty!  The hood is a cute touch that I also find handy when the wind picks up while I'm at the park with my family.
I like this as an easy, sporty option with leggings to head out the door quickly and stay warm.  It's 27″ long in the front and 29″ in the back, which for me at 5'6″ works well with leggings.  Of course my leggings of choice would be Zella leggings!  Either the High Waisted Live-In Leggings that I've talked about for years, or my current favorite, the 7/8 version with pockets!  Both of these pairs are thick and not see through, and they have a little compression to help firm things up and hold everything in. The 7/8 version has pockets high up near the hips, which I personally prefer over pockets on the thighs.  Check out the 7/8 version with pockets HERE. I wear them in size S, while I wear the full length Live-In leggings in M.
This pullover also works well with jeans, of course!  I think it would be cute with either black or blue skinny jeans and duck boots.  Too bad I never need those where I live. 😜
Shop the Outfit:
Top: Nordstrom (exact–wearing size M)
Leggings: Nordstrom (exact–wearing size M, similar–I wear size S, similar–I wear size S)
Shoes: (exact in black–I wear size 9, similar)
Tote: Nordstrom (exact)
Another cozy item I'm loving is these Restore Soft Leggings by Zella, which I recently told you about.  But, they're so good that they're worth mentioning again!  They are SO SOFT and feel unlike any of my other leggings.  I can't describe the material very well, but my best attempt is that they feel like the same material as soft, smooth joggers but in the form of leggings.  So, so comfy!
They're great for athleisure and for time at home.  Wear them with t-shirts and a utility jacket, a long sleeve top like I'm wearing above, or a cute, sporty sweatshirt.  Check out the leggings HERE!
Shop the Outfit:
Top: c/o Nordstrom (exact–wearing size S but want to try XS, similar, similar–sweatshirt, I wear size S)
Leggings: c/o Nordstrom (exact–wearing size S, similar–I wear size M, similar–I wear size S)
Shoes: (exact in all black–wearing size 9, similar, similar)
Bag: Nordstrom (similar)
Super Cozy Items for You and for Loved Ones
Here's a roundup of INSANELY soft, super cozy items for yourself or that make fantastic gifts!  Some highlights and PMT fan-favorites are: this throw blanket, butter socks, and Barefoot Dreams cardigan.  I really want to try this crewneck sweater which is described as "curl-up-worthy cozy at first sight."  Definitely enticing!
Scroll through and click the widget below to check out more items!
---
Make gift-giving STRESS-FREE! Enter your info to instantly access our FREE gift guide with hundreds of ideas for people on your list.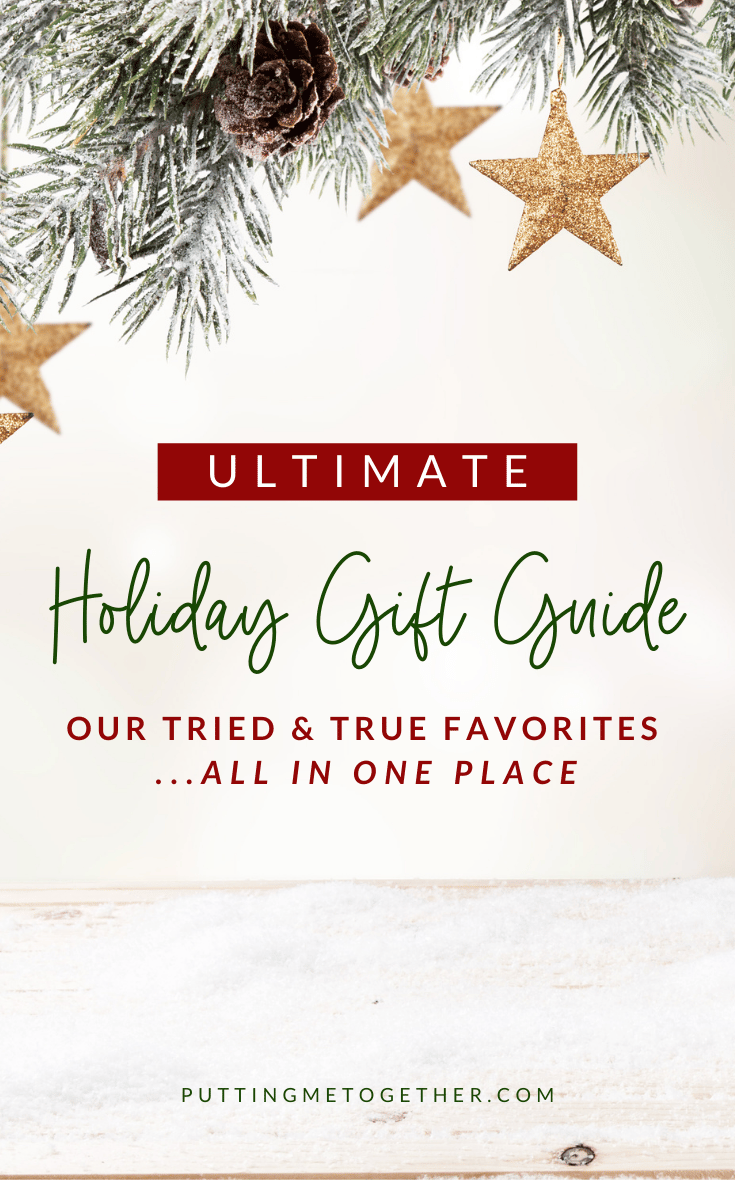 Hey, there!  We want to make gift-giving easy for you, so the PMT Team has compiled a HUGE gift list!  It's full of tried & true favorites from me, my husband, and our family, in addition to some from our PMT team members, Erin.  There's also gift ideas for your parents, kids, families, households, and more.  And it will be updated with fresh finds regularly through out this holiday season.  Enter your info above to access it!