Last week I started a short series on how to wear ankle boots based on a few of your questions from the 
Style Help Survey
.  We talked about different kinds of ankle boots, and I showed a bunch of pairs and talked about why I did or didn't like them.  (Catch the last post 
HERE
.)
Today we're talking about how to wear ankle boots with jeans and skirts/dresses.  I'll start with jeans because I feel like that has been the more difficult area for me.
Several people have asked what the "rights" and "wrongs" are of ankle boots.  I've read handfuls of articles saying certain things are wrong, but I've seen many people break those rules and look really cute doing it.  I think there are actually many "right" ways to wear ankle boots, and a lot of it comes down to preference and what kind of look you are going for.  However, if that doesn't relieve your stress and you still want someone to give more guidance and clarity, I'll try today.
With Skinny Jeans
So, the honest truth is that I haven't loved how my skinny jeans have looked with ankle jeans.   (See all my ankle boot outfits HERE, HERE, and HERE.)  I usually do a "messy roll" with them, which I don't necessarily think is wrong, but I'd prefer the look to be tighter and neater, like this: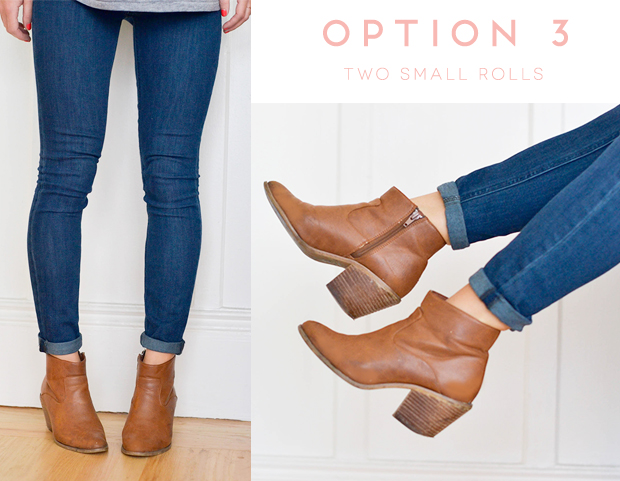 Finally, I stumbled upon an amazing post from Amanda at Advice From a Twenty Something, which you all need to check out
HERE
.  (The pic above is taken from that post.)  This is my favorite tutorial on how to wear ankle boots with skinny jeans, and she shows 4 ways to do it.  It's clear, beautiful, and overall incredibly helpful.  Amanda's post will probably be enough for most of you, so if it gives you the answers you need then go on and look cute with those ankle boots!
However, I tried to do what she said and it still didn't solve my problems.  If you are still having problems here's the thing: make sure your jeans are skinny enough at the ankles.
Skinny jeans tend to fit me like the picture on the left, not completely fitted to my ankles without alterations.  This looks fine with flats or pumps, but it becomes a problem when I roll them for ankle boots.  The picture on the right shows the same pair of jeans made skinnier with binder clips on the back acting as if I altered them.  It's a subtle difference unrolled, but it gets magnified once the rolling begins.
(I've gotten lots of emails about what kind of binder clips I used.  Please note that the binder clip thing is not an actual solution!  It's just to illustrate the difference in the pictures above so that I could use the same pair of jeans.  I literally have binder clips sticking out at my ankles, haha!  You need to get your jeans altered if you want to make the leg more fitted.  🙂  )
On the left column are the single and double rolls with my jeans in their natural state.  On the right are single and double rolls with the jeans "skinnified" (aka binder clip).The bottom left (natural double roll) ended up giving a tighter look without having to alter my jeans.  It's still not as tight as skinnified jeans, but it's something to try if you don't want to pay for tailoring.
Like I said before, I don't think the looser rolls on the left column are necessarily "wrong," but I'm usually always trying to get the cleaner lines on the right.  I also think the skinnier legged looks are easier to pull off in the sense that you don't have to worry as much about the cuff cutting off your leg line because they're not sticking out past the width of the shoe and creating a more defined line.  Instead, a skinnier leg makes things a little more streamline.
Here are comparison pics with an even taller boot that covers my ankles completely.  Again, it's really a matter of preference, but this was for those who have been trying to get the looks on the right and haven't been able to figure out why their jeans weren't working.If you try this look with straight legged jeans, you will probably get a more extreme version of the looks on the left.  Also, if you try this with jeans that go past mid-ankle it'll probably be hard to get a decent 1-roll look, and multiple rolls might get bulky depending on how long your jeans are.
Shop for the Look:
Top: J.Crew Factory (exact–wearing S, similar)
Jeans: Nordstrom (exact, similar, similar)
Boots #1: Old Navy (exact, similar, similar)
Boots #2: Forever 21 (similar, similar)
What about wearing booties with
socks?
It's not a style I personally do, though I think it's cute on others.  Amanda from Advice From a Twenty Someone has a fantastic post on that as well, which you can see
HERE
!
With Trouser Jeans
All that said, I think it's hard to do a rolled jean look with straight legged jeans if you are concerned about cutting off your leg line.  If you don't like skinny jeans, you could also wear booties with trouser jeans.
This is my favorite pair #4 from the
last post
–the pair with the cutout in front.  The toe is slightly pointed, and I think if they were pointier it would have looked even better with trouser jeans to elongate the leg.  
If your ankle boots look a little strange with trouser jeans, try a pair with a pointier toe.  
---
With Skirts and Dresses
I find that regardless of the cut of the dress (pencil, a-line, or whatever else), the thing that makes or breaks it for me is the length of the dress.
Above are a-line skirts at different lengths: midi, knee, above the knee.  My preference with FLAT ankle boots like these is slightly above the knee, though at the knee is okay too.  However, if I'm wearing a knee length skirt or dress I'd prefer my heeled cutout boots like below on the right:
I mean, this boot can really do no wrong.  (Except that it has heels and sometimes you just really want flats no matter what…)
Shop for the Pieces:
Tee: Everlane (exact–wearing M)
Midi Skirt: c/o Le Tote
White Skirt: ASOS (exact)
Above Knee Skirt: MNG via JCPenney
Boots #1: Old Navy (exact, similar, similar)
Boots #2: Target (really old, but similar HERE)
If you wear a high pair of boots, adding tights that match will extend your leg line and help prevent your legs from looking stumpy.  Example:
The boot goes a couple of inches past my ankle and really cuts off my legs.  Even a hem above the knee couldn't help much.  To minimize that, I went with matching tights.
---
Alright, that might be information overload.  Here's a summary:
Go to Amanda's post on ways to wear ankle boots with skinny jeans from Advice From a Twenty Something HERE.
Make sure your jeans are skinny enough at the ankles if you want that look.
There are a lot of "right" ways to wear ankle boots and it depends a lot on your preference.
If you don't want to wear skinny jeans, pair ankle boots with trouser jeans, but go for a pointier toe.
For skirts and dresses, aim for hems that hit at your knee or slightly above.
If the boot is high, pair it with same colored tights to extend the leg line.
When all else fails, an ankle boot with a cutout front is awesome.  (Found one sort of similar pair HERE.)