Here are the most popular items among the PMT community this month! I share tons of items each month, and I love that this roundup shares the highlights so you know what to focus on.
No surprise, most of them were from Amazon because of the huge roundup I recently did. But hey, these best sellers are totally worth sharing again in case you missed them the first time!
I also included a section with my personal favorites for the month, in case you're interested!
SIZING: I'm 5'6" and usually S/M or 6 in clothes and 8.5 to 9 in shoes.
Top Sellers Among the PMT Community
1. Floral Print Puff Sleeve Shirt – size S but want to try size M
This top is made of woven material that is very soft, meaning it's not as dressy as a blouse, but it can be dressed up for work and dressed down with jeans. It's really pretty and works with dark wash jeans, lighter jeans, white jeans or chinos, and slacks of all colors – my favorites being black and maroon. So many options! You can also tuck it into a skirt.
I thought this material would wrinkle easily because other similar-feeling tops have wrinkled upon wear (which is so bad!), but this one didn't. That said, try it for yourself since I didn't wear it for that long while trying it on. For sizing, I'm wearing size S and find it snug at the shoulders and would prefer more room in the torso, so I want to try a size up. It comes in 10 colors and prints, HERE.
2. Ruffle Sleeve Blouse – size M
This blouse is another option that you can wear to work with slacks or dress down with jeans. It drapes well and is easy to tuck! It has some stretch, too, so I find it fairly comfortable. It comes in 25 colors, though some of them are totally different styles with pompoms around the sleeves. I can't speak to how those fit or feel, but I like this one with the ruffle sleeves!
3. Hoop Earrings – 30mm
I've been wanting a pair of hoops, so when our PMT team member Courtney shared these insanely affordable earrings, I ordered them right away. She said, "I bought these in January and have worn them basically non-stop with no irritation and no tarnishing – I keep them on in the shower. This brand I can definitely recommend!"
These hoops come in gold, rose gold, and silver, and in FIVE different sizes! If you click on the different sizes, you can see a size chart to compare how each size looks on a person. See them all, HERE!
4. Brown/White T-shirt Dress – size S 
I reviewed a sleeveless version of this dress last month (HERE), but I discovered a t-shirt version and had to try it!
This dress is just as good as the other one, and here's what I previously wrote: Stretchy, soft, and COMFY! And, POCKETS! It comes in 20 colors. Check them out, HERE.
Pro tip #1: Since this is a tad more figure-hugging, I would personally stick with the printed versions over the solid colors if you want to conceal bumps. Prints help with that!
Pro tip #2: To smooth things out even more, especially around the backside, wear a slip underneath. It adds an extra layer to smooth over underwear lines and bumps without being too hot, and I feel way less exposed. The slip I wear is no longer available, but it looks identical to THIS one. Note that the waistband is wide and made of lace instead of a skinny piece of elastic. This helps the slip lay flat against your stomach and not dig into your stomach, which keeps the waist section smoother and also feels more comfortable to wear.
5. Initial Letter Pendant Necklace
This necklace is a WAY more affordable dupe of the necklace I own. The main difference is that the chain on this dupe is slightly thicker than the one I own, but that's about it! It's a great option to try out a necklace and see how much of a difference it'll make in your outfits.
6. Zella Live-In Leggings – size M
These leggings are a tried & true favorite. Really great leggings that are thick, opaque, and have a high and wide waistband that doesn't fold over on you. Also, these have some compression which helps hold everything in place and is more flattering. I typically wear size S for Zella leggings, but I wear size M in these for some reason.
7. Black Pants – size 6
These ponte ankle crop kick bootcut pants are another pair of SUPER comfortable and affordable pants. I'm SO glad these made the top sellers list because I love them and want as many of you to have them as possible, haha! They are really soft and very stretchy, but they are thicker, which helps you feel more secure. I love that bootcut pants hug your hips and thighs, providing shape, and then add some movement with the slight flare at the bottom. I've been loving this silhouette lately! These are also only $44.97! Check them out HERE. I'm wearing size 6.
8. Dolce Vita Sneakers – size 8.5
Slip-on sneakers or low-profile sneakers are KEY to upgrading your casual outfits. This pair is a trendier option that will add a modern element to all of your outfits. I LOVE how much they update old outfits!
This pair has a cushioned footbed and soft leather upper. I can slip these on without having to tie anything, which is a MUST for me. The laces aren't meant to be tied anyway. One note is the heel is shallow, so be mindful of that if you often have problems with heels slipping off. Comes in several colors, HERE. I wear size 8.5.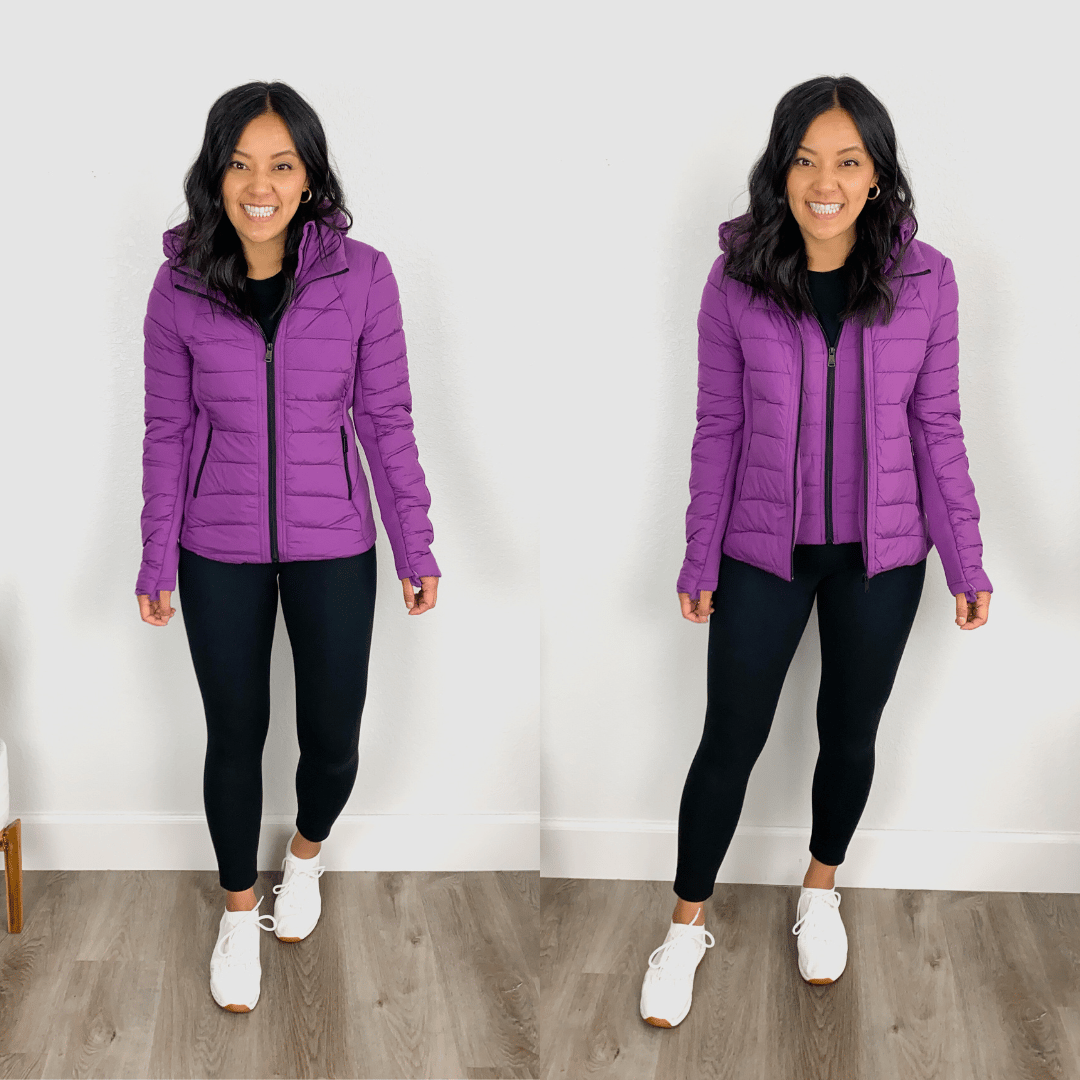 9. ​Bernardo Quilted Water Repellent Jacket​ –  size M
I shared this last year, and it's awesome! It nips in at the waist for a flattering fit so you don't feel bulky in a puffer jacket! It has a zip-off bib, thumbholes, zippered pockets, straps to carry it on your back and be handsfree if you are active(!!), and is water resistant! It looks really good with leggings for sportier looks. The Wood Violet color is SO pretty and could be a welcome pop of color come winter. I wear size M in this as it is snug and I want to layer it over sweatshirts. See it HERE.
10. Medium Wash Jeans –  size 6
These jeans are a recent favorite of mine. They are soft, stretchy, and super comfy, and they have the elastic strip in the back of the waistband to make them extra comfortable. I love their crop bootcut silhouette because it hugs your hips and thighs to show your shape but provides a modern look with the flared bottom. These jeans are typically $78, but they are available for just $44.97 HERE! I wear size 6.
My Personal Favorites
In addition to the Top Sellers, which are the favorites among the PMT community, here are my personal favorite finds from the month!
1. Amazon Water Resistant Laptop Backpack
I owned this backpack in black and liked it so much I got it in another color to go with some of my other outfits!
What I love about this backpack: It fits my 15.6" laptop. It's water-resistant, so I never worry when I'm out in the rain with it! It has lots of space and different pockets for organization. It's pretty comfortable to wear. And, it has a really sleek and modern design. It might seem excessive to have two laptop backpacks but I use mine so much, both as a laptop backpack and as my regular backpack anytime I'm with kids and need to hold a lot but want to be hands-free. Find it in several colors, HERE.
2. Democracy Ab Tech Kick Flare Jeans
These are #10 above. Been LOVING them!
3. Kick Flare Pants – size 6
These are #7 above, and though I don't need them personally since I don't dress business casual, I love them! Having a pair of pants like this is seriously such a great way to update all of your work looks, and it's pretty affordable. Plus COMFY!!
4. Goodthreads Shaker Stitch Sweater – size S
This sweater is a great find, but unfortunately it's nearly sold out. I'm sticking it here anyway in case it comes back! I haven't worn this since it's currently summertime, but I am very excited about it. It's soft, pretty thick, and very cozy, but also relatively lightweight, so it shouldn't make you feel weighed down like other thicker sweaters might. It feels similar to some sweaters that I love from Nordstrom, but those are like $69 and this one is way less than that! I also like the length – I don't need to tuck it. Unfortunately, this color sold out the day after I got it, but it's available in several other colors. I'm hoping more colors pop back in stock! Check out the available colors HERE.
5. White Kohl's Blouse
I don't think I got this in August, but I really like how it looks and all the ways you can style it. Button ups are classic, but they are having a particular moment in the trend spotlight right now, so I'm digging this top. I especially love it with the Democracy Ab Tech Kick Flare Jeans for a relaxed, somewhat boho vibe!
There you go! The PMT community faves and my favorite finds of the month. Did you get anything you love this month?
---
Want help styling those wardrobe essentials? Grab my Wardrobe Staples Styler guide to learn to work your wardrobe staples! You'll learn what to look for in wardrobe staples, have 48 outfit prompts at your fingertips to help you create ENDLESS outfits, and have an easy-to-use resource to help you put outfits together with what's currently in your closet.
Click HERE to check it out!