Leopard is a PERFECT print for fall!  It mixes so well with fall colors like black, olive, maroon, and grey.  Today I've got a fun post with my friends Kilee from One Little Momma and Sandy from Sandy a la Mode.  We're teaming up to show 9 ways to wear leopard print for fall!
You guys know I tend to stick to classic pieces, so collaborating with Kilee and Sandy is a fun way to show trendier and edgier ways to wear leopard for you to play with.  Let's talk through some of them!
Leopard Print Accessories
Leopard print accessories are very easy ways to ease into leopard print if you're hesitant at all.  They are smaller items that don't scream, "Leopard!!" at you, yet they still totally elevate outfits by giving them an interesting twist or spark.  The following are three classic leopard pieces that are very safe places to start.  They'll never go out of style!
Leopard Print Flats
Leopard flats are one of my closet staples!  Classic styles I love are ones with a slightly pointier toe and sleek silhouette.   Ballet flats work too, but I like how a pointier toe adds a touch more polish.  Leopard flats immediately elevate an outfit of all solid pieces!  The outfit above would work fine with nude or tan flats, but leopard print flats give it a subtle twist that's packed with tons of style.  Two leopard flat options are HERE (very similar to mine) and HERE (I LOVE this brighter print).
Leopard Print Scarf
A leopard print scarf makes a bit more of a statement, but what's nice is you can take it off if you get self-conscious.  😛  Wear it over ANY solid tee, top, blouse, or sweater, and it'll pull together the outfit instantly!  So, so easy.
You've seen this on me quite a bit lately, but it's been going in and out of stock.  Check it HERE, or try one of the similar options I found HERE (only $7.99!) and HERE.
Leopard Print Clutch
This is my go-to bag for dressier occasions.  It gives outfits a fun POP!  My exact one is HERE, and currently sold out, but I'm hoping for a restock.  Good news is that I found tons of other great leopard clutch options that you can shop in the widget below!  Highlights: THIS one that's really similar to mine, and THIS one.
Leopard Print Earrings
Ohhhh yes, did you know my favorite Nickel & Suede earrings come in leopard print?  I LOVE how Kilee styled them against all white with an olive cardigan.  I've shown them with my maroon butter top + grey jeans + black slip on sneakers HERE.  If you don't know about Nickel & Suede earrings, they are statement earrings made of leather, which makes them very lightweight and super crazy comfy!  Shop the leopard print ones HERE and all the rest HERE.
Shop My Outfits:

Leopard Print Statement Pieces
Next, we're moving into the territory of leopard print statement pieces!  The first two are ones I feel I could wear more easily, with subsequent ones getting increasingly out of my comfort zone.  But it's SO fun to see Sandy and Kilee rock them!
Leopard Print Sweater
I love this!  I actually bought one from Target HERE, but ended up returning it only because I don't need a TON of sweaters in the fall and didn't know how much I'd actually end up wearing a statement one.  I keep wishing I'd kept it though!  There's a chance I might go back and get it, especially if it starts to cool down here sooner rather than later. ???
Find Kilee's sweater HERE and a very affordable Target one HERE.
Leopard Print Skirt
Leopard print skirts can be intimidating, especially because I've got images in my head from decades ago of super tight leopard print pencil skirts with very loud leopard prints.  But, not all leopard prints are the same!  The skirt that Sandy's wearing above has a sophisticated beige background, as opposed to a louder almost-orange-ish background.  It's also a modern shift silhouette as opposed to skin tight.
Sandy gave it a bit of edge with all black and black suede OTK boots.  You could also style it with a white blouse and tall brown suede boots, or more conservatively with loafers.  You can also pair it with a bright colored sweater, like cobalt or green to play it up!
Find the skirt HERE in regular, petite, plus, and tall!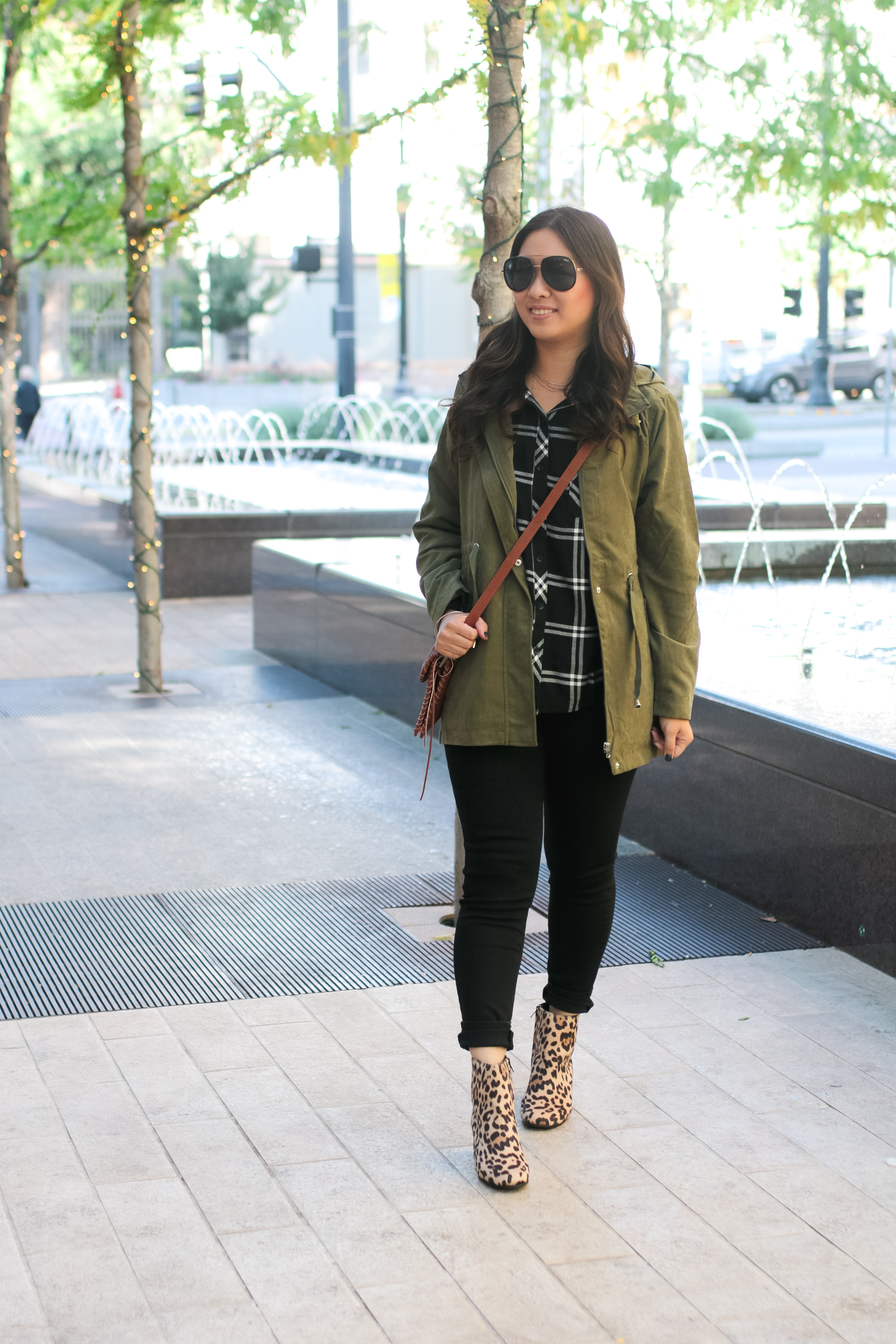 Leopard Print Booties
I put these under Statement Pieces instead of Accessories because these are so trendy and make way more of a statement than leopard flats!  Kilee and Sandy both styled theirs with black jeans, but they'd be really chic with white jeans too!
Find Kilee's HERE and Sandy's HERE.
Leopard Print Vest
If you want to spice up your puffer vest collection, grab one in a leopard print!  This one has good reviews and comes in regular, petite, and plus HERE!
Leopard Print Coat
Anyone ready to rock this?  Kilee is SO COOL and chic in it!  The great news is her coat is only $40, so if you want to experiment with a huge statement piece like this, it won't take an enormous hit on your wallet!  Find her coat HERE.
SHOP LEOPARD PIECES

There are tons of ways you can incorporate leopard into your fall style, whether in subtle or statement-making ways.  I've got the classic leopard print pieces, so next on my list would definitely be a leopard print sweater!  Are there any leopard pieces you're wanting to try?
---
NEVER MISS A POST!
Join PMT Emails for the latest blog posts, style tips, outfit inspiration, new releases, special sale alerts, exclusive giveaways, and behind the scenes peeks!