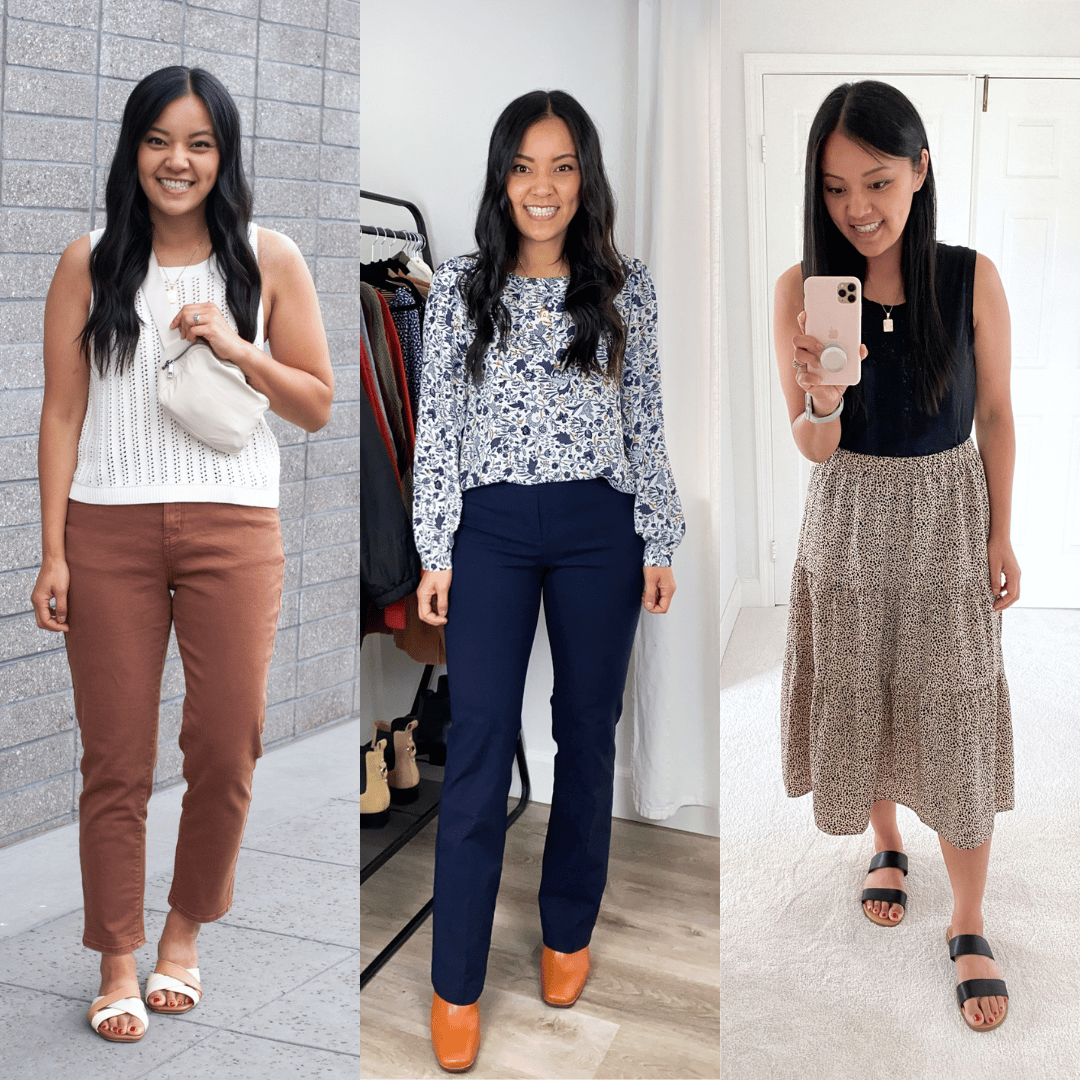 Amazon Finds for Now and Into Fall
We're in that transition period between seasons, and in case you're looking for something to perk up your summer wardrobe and bring it into fall, today's finds are for you! If I've personally tried these items, I've mentioned my size or colorway.
SIZING: I'm 5'6″ and usually S/M or 6 in clothes.
1. Leopard Print Skirt in "Lightkhaki" – (Shown in third pic above.) Lightweight and COMFY with a flowy fit and stretchy, elastic waistband. Pair this with a black tank top and black sandals for an effortless, comfortable, and stylish outfit! I wear size M.
2. Bootcut Pants – (Shown in second pic above.) I've reviewed these in the past, but I wanted to highlight them again since a lot of you are getting ready to go back to work. These are stretchy with a comfortable pull-on, elastic waist. Crisp material (not soft and smooth) but relatively comfortable, thanks to the stretch. Highlighting them because they're affordable and good for the price, come in 48 colors (!!), and are slightly bootcut so they flow more easily over booties. I wear size 6.
3. Chelsea Ankle Boots – If you're looking for a low-heel bootie, these could be worth trying!
4. Western Ankle Boots – The Mocha (cognac) and Sand versions are gorgeous!
5. Crossbody Saddle Bag – Similar to a bag I wear, and this one has lots of pockets for organization! It's super affordable and comes in 11 colors!
6. Ribbed Sweater – Love that this looks easygoing and stylish at the same time!
7. Belt Bag – (Shown in first pic above.) SO good and under $19! Fits a small wallet, pouch full of miscellaneous items, and phone. Comes in tons of colors. I own this in black and ivory.
8. Sunglasses – These feel pretty thick for how affordable they are! The classic shape makes them easy to wear.
9. Two-Strap Heeled Slides – The cognac color looks like a pair of wedges I own that a LOT of you have asked about over the years but never came back in stock. Definitely interested in trying these!
10. Footbed Sandals – Modern and current style with a sleek silhouette that has a comfy footbed and arch support. I wear size 8.5.
---
Get Your Starter Kit Wardrobe Guides®️ for Fall!
Do you want to build an easy-to-use wardrobe that mixes and matches seamlessly? Grab a Starter Kit Wardrobe Guide®️ and get going!
These give you a step-by-step plan for building a wardrobe quickly and painlessly, complete with a compact shopping list, all the outfits you can create with the shopping list, and a bonus guide of shopping links so that you can feel stylish in no time.
We have guides available for workwear and for casual wear. You'll be able to build an insanely versatile wardrobe with just a few pieces! Truly! Check out the Starter Kit Wardrobe Guides®️ HERE.
"Thank you for making this awesome resource available to us for such a modest price. I have been able to shop my own closet for most of the core items and have been shocked to find that I didn't really need to invest too much money to look pulled together, I just needed a 'how to.' 🙂 I already feel so much better about how I look. Thank you for all you do." – Rebecca
"This is FANTASTIC! I recently got a new job that requires business casual dress, and I was feeling totally lost at sea until I found your starter kit! Now I'm building a simple, remixable wardrobe that feels good and looks good. Thank you for all the great tips!" – Lauren