It is rather thin, but this oversized cardigan just goes with everything!
This one was way softer than the BP cardigan above. I wanted to love it, but the pockets did not work with my hips. Inside, the pockets flap around and created bulk at my hips if they got bunched up. On the BP cardigan, the pockets are sewn down and in place on the inside. However, if your hips never fight with clothes, definitely try this one because it's sooooo soft and looks amazing when it doesn't fight your hips!
This sweater is SOOOOOO STINKING SOFT! I don't know it'll hold up with washes, but good thing Nordstrom's return policy is generous. :P Oh man, this thing is so soft!
It's got seams on the side, which honestly I could do without, but it's fine--not a deal breaker. There is elastic at the wrists as well as the hem, which I think is supposed to help it hug underneath your rear and would be cute with leggings. This is 27" long for reference!
You know I'm always on the lookout for a good striped tee! This one is not super thick, but it drapes nicely and does the partial-tuck well. I'm not wearing a cami underneath and you couldn't see my bra lining, but you can see the darker area where my jeans are. Not sure how it'd be in sunlight though.
Between S and XS, I preferred the XS, though if I had a larger chest I'd have to go up to S. I hope these don't shrink in the wash, but if they do I'd try steaming them to see if that loosens it up and restores its length.
Size 6 fit me, but I didn't like how tight it was around my thighs and hips. More importantly, that all made them several inches shorter than Size 8 on me! I could have worn size 6 with flats, but in size 8 I am standing on my toes so that my pants aren't dragging. I wear these in size 8 for those reasons.
I'm teaming up with a bunch of bloggers to give away a $250 Nordstrom gift card to one of you! The giveaway will end Thursday, July 20th at 7pm EST, and the winner will be announced on Friday, July 21--when the sale opens to all non-cardholders!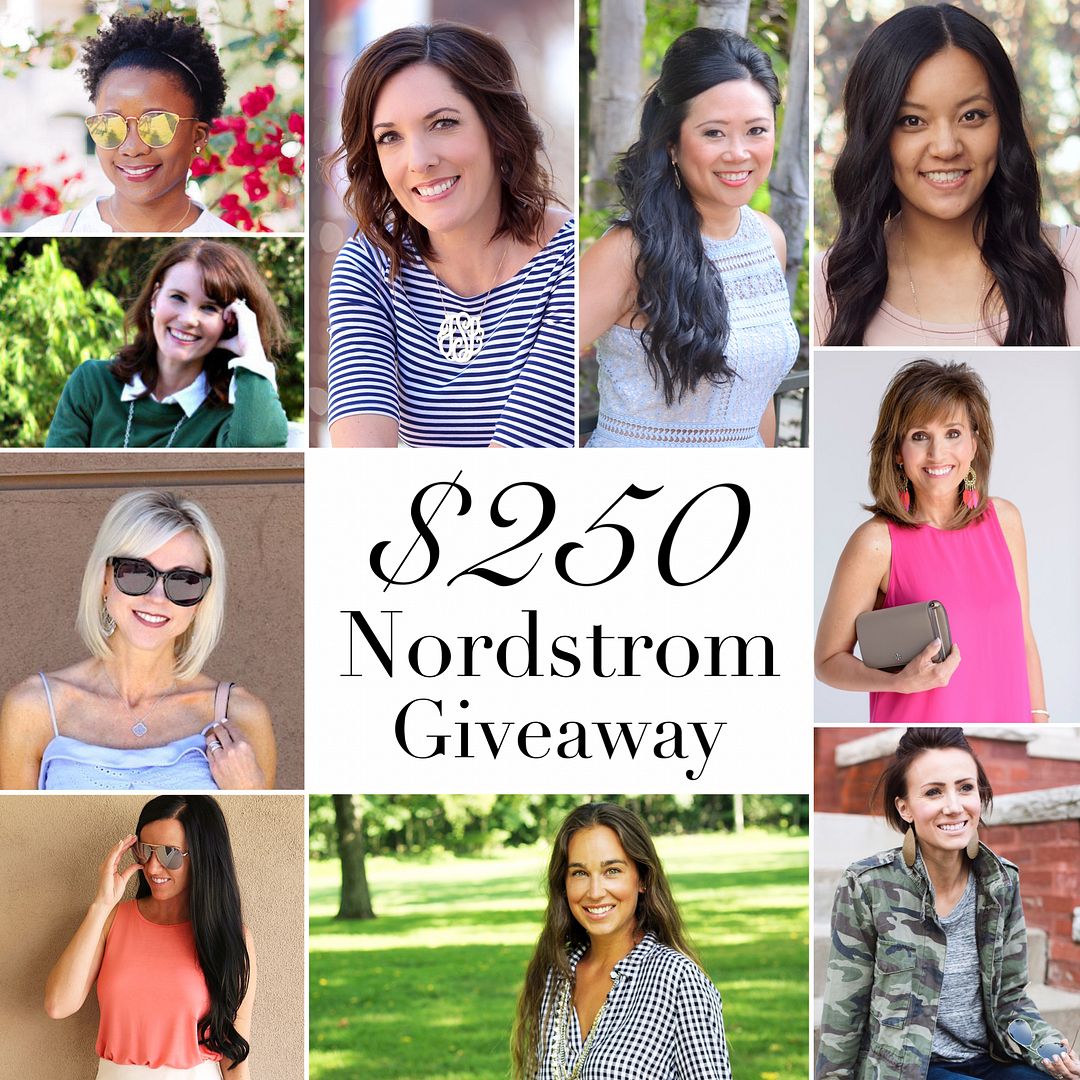 Enter the $250 Nordstrom Gift Card Giveaway by using the Rafflecopter below! You do not need to perform all tasks to enter, though the more tasks you do complete means more chances for you to win! Good luck!
a Rafflecopter giveaway